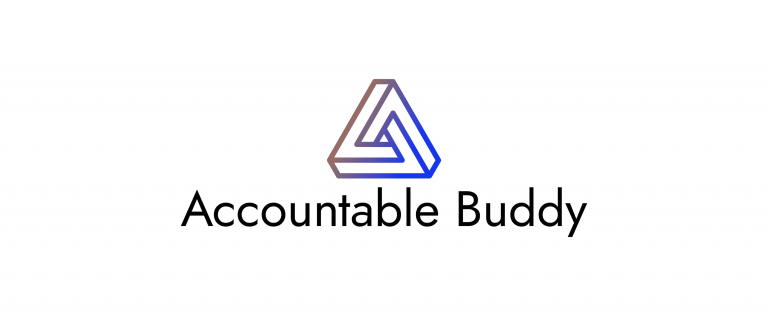 MAKE A PROMISE.
MAKE YOUR DREAMS AND GOALS
HAPPEN.
Accountable Buddy helps you reach your goals.
We're here to make sure you stay on track
and get things done
so you can live the life you truly seek.
Exclusive Offer
Our FREE 3-day trial gets you up and running fast
and shows you how much you can achieve.
This special offer is only available until August 31, 2020.

Procrastination Steals Your Time.
Distraction Saps Your Focus.
Challenge Drains Your Energy & Hopes.
Staying on track to attain your dreams and goals
can seem all too easy
when you write out your TO DO list.

You've seen the life you want to lead.
You've dreamt about the good times just around the corner.

And now your plan is here…
clearly mapped out in a step by-step list
that takes you where you want to go.

All that's need now is to go ahead and do it.

But here's where the difficulty begins.

Because turning dreams into action is never as straightforward as it seems.

However much you want something, it's so easy to get derailed.

It's human nature to want to better yourself,
but it's no great secret
that all too many people
wander off track …
fall by the wayside …
hit a roadblock …

or simply

QUIT.

Just think for a moment about people you know
who made a plan —
and failed.

There's endless ways this can happen,
but here's the
Top 3 Reasons
That Stop People Getting What They Want
steals your time
We all know about procrastination. It's what happened back in college when you didn't finish your assignments. Or anything you should have done last week, last month, last year … but didn't. Sure, you had time … but you didn't follow through. It's so easy to put things off till later. But when you do this, day after day, month after month, year after year, one day you'll wake up to find that all your precious time has been eaten alive. And it's too late.
Wouldn't it be better to have a buddy by your side
to help you stick to your plans?
saps your focus
So … the latest superhero movie just hit the theater and all your friends are screaming for you to come along. "Let's take in a bar and have a great time!" Who wouldn't say YES to great offers like these!
Problem is … if you've set a big goal for yourself further down the line … a truly great reward you've dreamt about for an age … and the movie trashes a key item in your schedule … then here's another easy way to trip yourself up.
Distractions like this are all around you. TV shows. Games. Theme parks. Facebook. The list is endless. Here's an onslaught of big temptations to make you to stop what you're doing.
For sure, you deserve treats and good times. Who doesn't!
But when the treats are so tempting they make you STOP the truly important stuff …
When they stand between you and your dreams and goals …
When they make it hard or impossible to get you hands on the future you've promised yourself …
That's when you really need a helping hand to stick to what you started.
Wouldn't it be great to have a dependable buddy on your team
to help you keep your focus?
drains your energy & hopes
Here's where we come to the crunch.
Even when you fix the procrastination & distraction and devote yourself 100% to your dreams and goals …
the awful truth about achieving success is
… *gulp* …
ACTUALLY,
THIS IS REALLY TOUGH.
The bigger the challenge, the bigger the gain.
 That's why great achievement doesn't come free.
When you aim high for personal success this means challenge is part of the deal.
And when the going gets tough …
When you really have to push yourself way beyond your limits
… the temptation to quit can hit you like a sledgehammer in the face.
That's when you say …
Maybe this new business venture won't work out after all.
Maybe I don't need that new car.
Maybe I should just be happy with the size I am.
When things get tough, here's where you really need a helping hand.
Someone to stand with you as you leap into the fray.
Someone to keep you pushing
when the mountain seems impossible to climb.
Someone to make the best version of You happen.
The person you envisioned
when you wrote out your list of dreams and goals.
Someone to say …
You made a promise way back to see this through.
So that's exactly what you're gonna do.
And when all of this is over,
you'll be stronger than you know.
So … KEEP GOING.
Wouldn't it be awesome to have a rock solid buddy by your side
to make sure you saw your plans through?
"It's hard to beat a person who never gives up."
Babe Ruth
This is a great quote, 100% true.
But there's a problem.

Not everyone is Babe Ruth.
Or all those other out-and-out champions
whose words you see every day in motivational memes.

Most people are ordinary people
who just want to make things better for themselves.

But they procrastinate … they get distracted — and they quit.

SO …

Let's make sure you don't turn out this way.
Let's make sure your next project doesn't nosedive.
Let's make certain your dreams and goals happen.

There's a thousand and one ways to trip yourself up.
But only one way to get the job done.

Accountable Buddy Keeps You On Track
Whatever Your Dream or Goal
Instant Access to All the Answers You Need
Book a call today and discover how Accountable Buddy can help take your next project or goal forward.
Ask questions, get instant answers!
There's no time like the present to get started on bringing your future to life.
A quick & easy call answers all your queries.
Don't put it off until tomorrow!
Book now here!

Accountable Buddy makes sure you stay productive.
Here's how
you can commit to your own success.
Achieve your goals
in 3 Easy steps
1
Set Your Goals in Stone
Your all-important TO DO list is too important to keep to yourself.
Show us what you seek to accomplish.
Commit yourself to the action you intend to take.
2
Set Your Plans In Motion
Here's where you get down to business with your plans and goals.
Here's where you keep all the promises you made.
Accountability Buddy
stands with you.
3
See Your Project Through
We'll push you until you take action on all your commitments.
Whenever you waver or face setbacks …
we'll drive you forward
till the job is done.
Accountable Buddy takes every last one of your tasks and goals
and sticks by your side till you produce your desired results.

Just send us your plan, and we'll keep you to it!

Our daily emails keep you primed for action, so you can tick off items from your list as you power through your schedule.

Any distraction … any wavering … any slacking … we'll point you back in the right direction so you can get you started again like you really mean it!

Think of us like a calendar with attitude.

What's the point in making plans if you don't deliver the goods?

So send us your schedules … and show us proof you stuck to your word.

We'll keep you productive and inspired with sound advice and hints to improve your productivity and address any problems you have.

Day by day, you'll take the steps you need to get you to where you want to be.

And when you've made it, you'll bank that success in your account.

Here's why …
COMMITMENT
DELIVERS
RESULTS
Plenty of people dream, millions make plans — but only the winners follow through.

So whether you're an entrepreneur seeking to hit new heights, a business owner with big plans to scale, a marketer on a serious mission, an author or blogger chasing deadlines (or fame!), an influencer with 2021 in their sights … or you're crazy to lose weight, get fit, pass exams, or making any kind of impactful personal transformation …

now is the time to make a firm commitment to your future.

Imagine how much better things could be … just a little further down the line … when the task you set for yourself is finally completed.

Everything on your TO DO list is in the bag … and now you're free to make a whole new set of choices.

Savour the thought of that moment for a second. You wrote out the plan, so it has to be possible, right?

Now think how you'll feel if you don't make it. See you face in the mirror when you look back at yourself and say,

I'm sorry
I quit.

How does life look when your dream or project goes off track?

The difference in these two scenarios is HUGE.

But commitment makes a huge difference too — and the numbers show this.
You have a 95% chance of completing a goal if you commit to someone.
Make the Promise.
Do the Thing.
FACT : The American Society of Training and Development (ASTD) did a study on accountability and discovered something truly stunning about the power of commitment. Their research found that if you make a specific accountability promise with a person who will help you keep you on track, you will increase your chance of success by up to 95%. That's because having a supportive ally and backer really helps.
See Accountable Buddy In Action.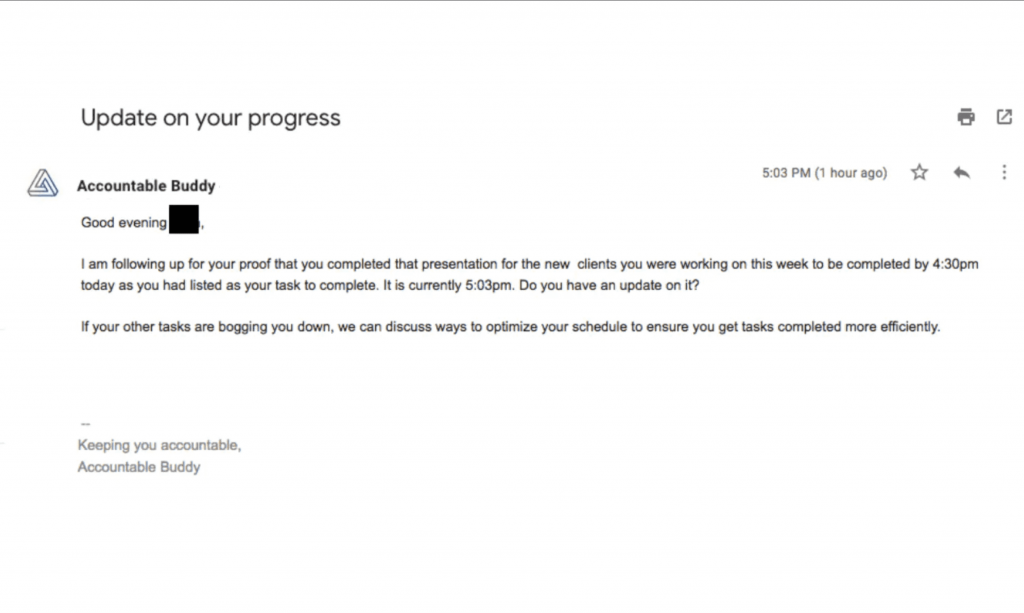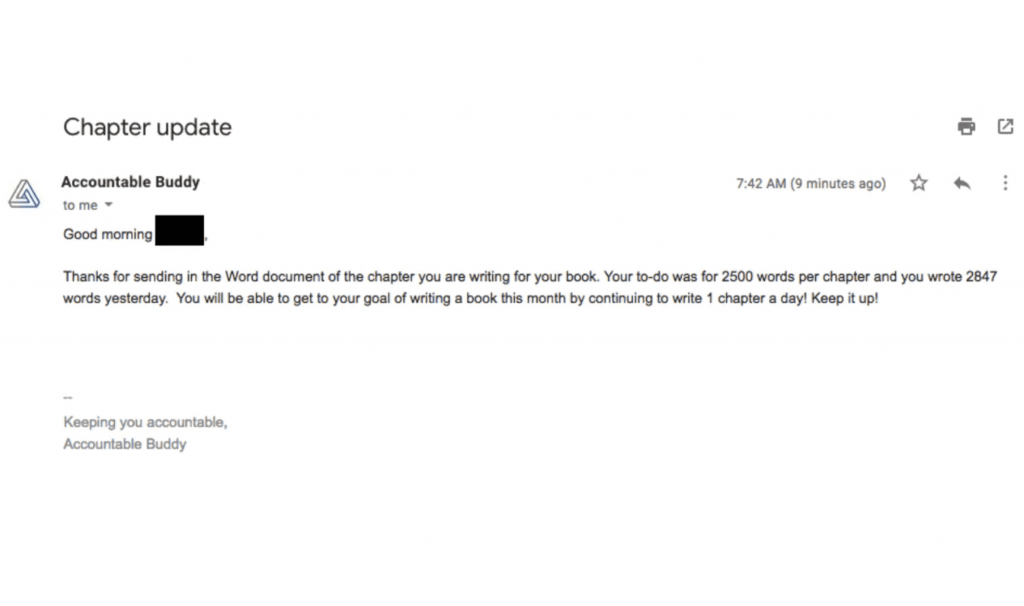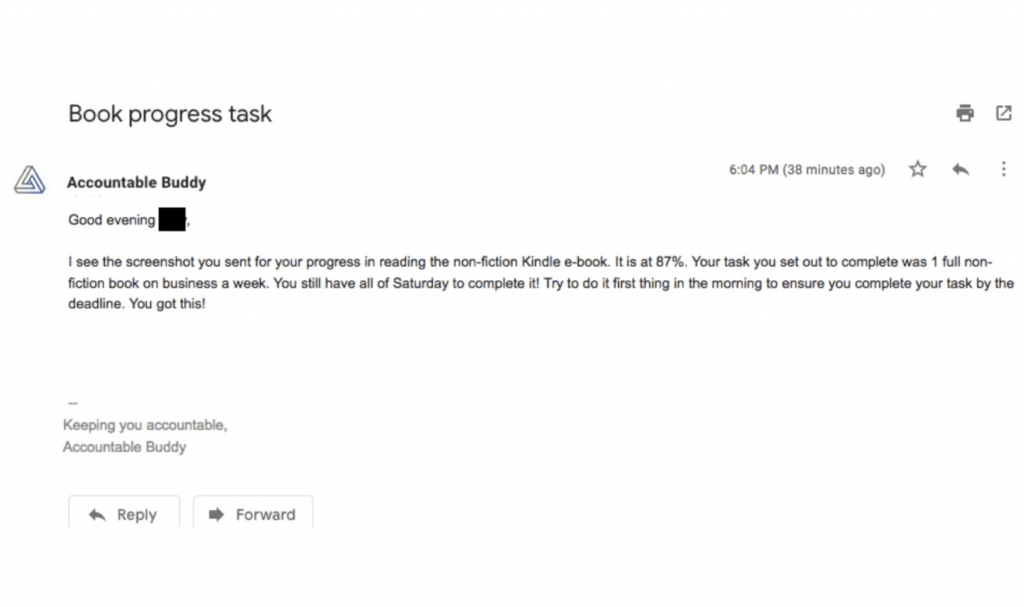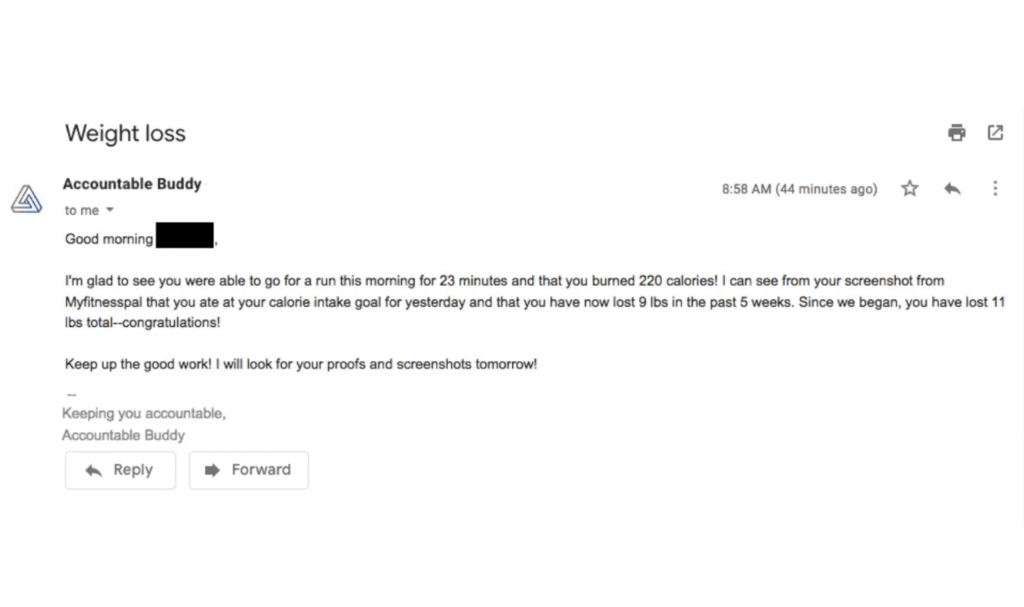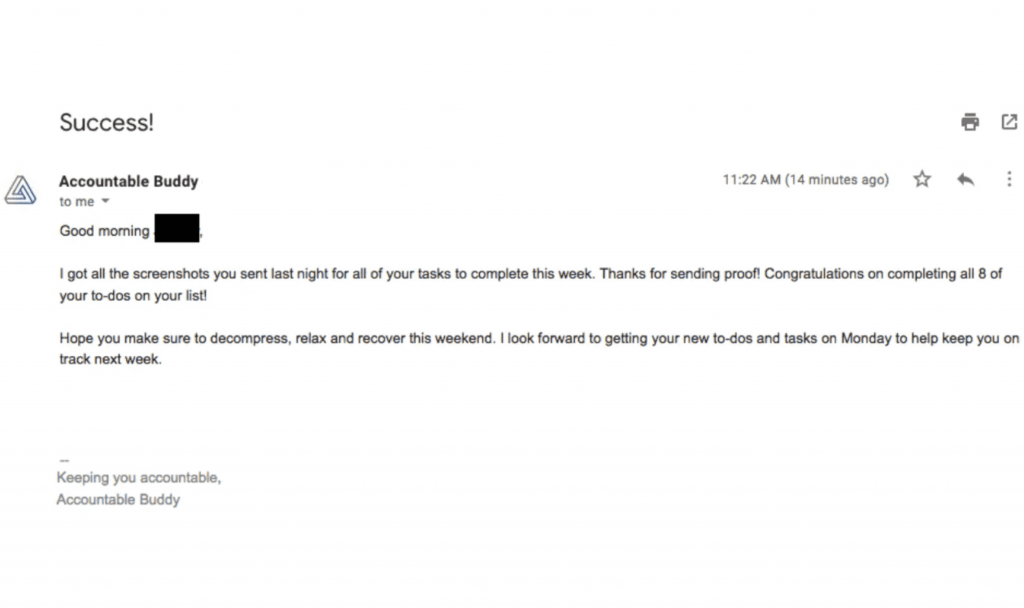 GET STARTED
WITH A PLAN
TO MATCH YOUR ASPIRATIONS
The more you commit, the more you save.
SPECIAL OFFER FOR August 2020
For a limited period, you can discover the benefits of Accountable Buddy ENTIRELY FREE.
Our exclusive Free 3-Day Trial puts you in the driving seat and gets you started on a goal you want to make happen.
The service is 100% yours to use, and it's here for you right away.
START MY FREE TRIAL
Email us here to start the free trial!
This exclusive offer expires on August 31st, 2020
but until then … you can experience Accountable Buddy completely free.
Accountable Buddy helps you get the job done.

Here's praise from some of the great people we've worked with
on their journey from plan to action.

They said it … and they showed they meant it.
I was skeptical at first, but after a week I accomplished more than the past month! I am very pleased with Accountable Buddy and wish I found out about it sooner.
Accountable Buddy is probably the best investment I have made this year. Having an actual person respond to me and follow up with me constantly has been a godsend. I have been able to prioritize tasks and beat procrastinating everything. I was feeling so overwhelmed and burned out that I am glad I found you when I did. You have helped completely 180 my tasks, goals, priorities, and life overall.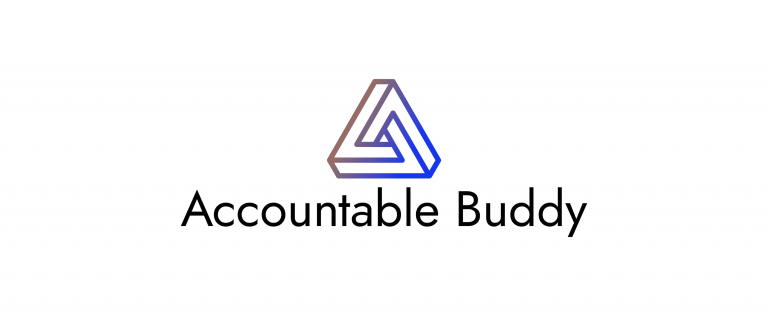 Stay on track
with a buddy who always has your back.